Waiting on Wednesday is a weekly event hosted by Jill at Breaking the Spine.  In this prompt we discuss books that have yet to be published that we're excited about! Head over to her blog to learn more.
---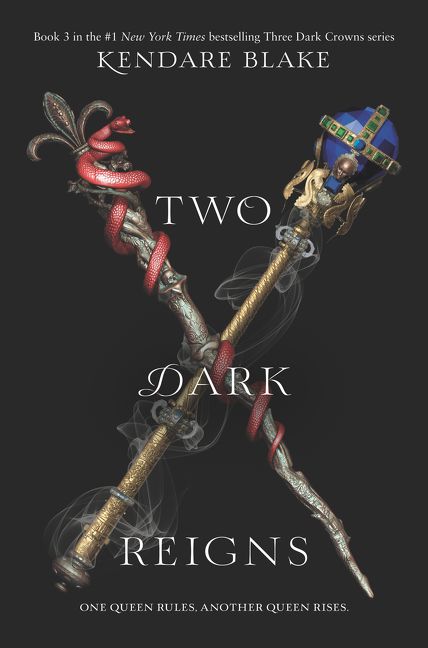 Title: Two Dark Reigns
Author: Kendare Blake
Genre: YA Fantasy
Publisher: HarperTeen
Publication Date: September 4, 2018
Links: Goodreads | Book Depository
Synopsis: Queen Katharine has waited her entire life to wear the crown. But now that she finally has it, the murmurs of dissent grow louder by the day. There's also the alarming issue of whether or not her sisters are actually dead—or if they're waiting in the wings to usurp the throne.
Mirabella and Arsinoe are alive, but in hiding on the minland and dealing with a nightmare of their own: being visited repeatedly by a specter they think might be the fabled Blue Queen. Though she says nothing, her rotting, bony finger pointing out to sea is clear enough: return to Fennbirn.
Jules, too, is in a strange place—in disguise. And her only confidants, a war-gifted girl named Emilia and her oracle friend Mathilde, are urging her to take on a role she can't imagine filling: a legion-cursed queen who will lead a rebel army to Katharine's doorstep.
This is an uprising that the mysterious Blue Queen may have more to do with than anyone could have guessed—or expected.
---
HOW is it possible I have never talked about this book on my blog before?? I've been here for nearly SEVEN MONTHS and I have neglected to mention this book even once?!??
Somebody take away my library card because that is UNACCEPTABLE.
Three Dark Crowns is one of my favourite fantasy series of all time. And like, I haven't read all the fantasy series in the world, but I've read a lot? And this one surpasses most of them by far. I love the three queens and their distinct abilities that pull from various aspects of life and nature. I love the intricacy and greyness of their youth, and how they are expected to turn on those they've spent their childhoods with. I especially love how their past is not what it seems, and there are secrets that could destroy the whole structure of their existence if they were ever revealed. You know how in Spirited Away, No Face just eats everything in order to take on the personality traits of everyone around him? That's what I want to do with this book series.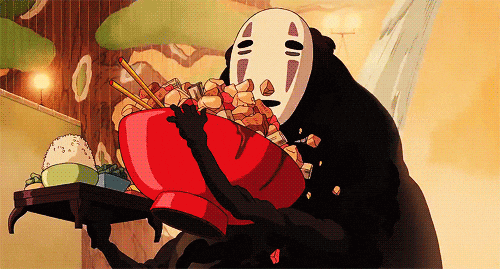 (Exactly.)
And I can't quite believe how close I am to having the third book in my hands. It simultaneously feels like decades but also just yesterday that I read the first book. I'm also really keen to figure out why the series goes "three-one-two", because there has to be a good story behind that. Otherwise I just have to sit with it out of order. Forever.
I also love this series so much because it reminds me of the books I used to read with my best friends in high school. We've all moved on to different life paths now, but I've made a point to recommend this series to all of them. What use are books anyway if you can't use them to bridge relationships and keep you closer to others?
***
Have you read the Three Dark Crowns series? Who is your favourite queen?