Like any other 21st century kid, Harry Potter formed the central pillar of my childhood. But there are a ton of other books and authors that I grew up reading, and loved nearly as much. Books have come so far, YA books especially, that a lot of books get left behind. So today I'm going to take us on a little journey down memory lane and reminisce over what it was like to be a Canadian kid reading in the early 2000s.
Me as a child, but add a pair of glasses and subtract the hair ribbon.
---

Gordon Korman
Gordon Korman wrote a ton of children's books that I read over and over again. He's most well known for his trilogies that follow mismatched groups of kids in various unique situations. My favorite one was the Island trilogy about a group of kids marooned on a desert island, but he also wrote the Everest trilogy, the Dive trilogy, and the Titanic trilogy. He also wrote the MacDonald Hall series, which I know I've read and loved but I cannot remember where or when.

Beverly Clearly
I adored the Ramona books growing up. I can still remember reading them every time I visited my grandparents during the summer, and wishing I had a cat named Picky-Picky and lived on Klickitat Street in Oregon. I really hope that Beverly Clearly's books remain in print in the future, because they were so important to tiny Erin.

Judy Blume
I feel the same way about Judy Blume as I do Beverly Clearly. I read them mainly in elementary school, and they were so important to me. Most importantly, they made me feel heard. Reading Judy's books was one of the first times I felt like I could truly see my life, my thoughts, and my concerns in a book.
Ann M. Martin
Ann M. Martin wrote the Babysitter's Club series, which was one of my all-time favourite book series when I was a kid. I remember waiting with anticipation for when I was old enough to form my own Babysitter's Club, what friends I would invite, and how we would advertise, all based off of this beloved series. I never did, but I will always have a warm spot in my heart for the original four girls (Mary-Anne Spier 4 lyfe).

Roald Dahl
Roald Dahl wrote some of the most crucial books to my childhood. I particularly loved Matilda, but other favourites were Charlie and the Chocolate Factory, Danny the Champion of the World, and James and the Giant Peach. His books and writings were so whimsical and fun, and were the perfect escape from my hum drum life.

Lisi Harrison
When I think about how much I loved The Clique series when I was in middle school, it becomes overwhelming. I was obsessed with these books. I mean obsessed. I read every single one, and it feels like every time I came out of the bookstore, I had another book in the series. The girls in The Clique became my best friends. I wanted so badly to be one of them. I even set up online personas for each of them and role-played them all at once. It was nuts.

Lois Gladys Leppard
One of my favourite series when I was younger was the Mandie series, about a young girl at the turn of the century in North Carolina who solved mysteries and family secrets all at the same time. The books and their writing are very much products of their time and are quite politically incorrect nowadays, but I loved them all the same.

Louise Rennison
Louise Rennison wrote the Confessions of Georgia Nicholson series, which was one of my absolute favourites (I realise I'm saying everything is a favourite which may seem like the designation isn't exclusive, but I promise it is). I particularly loved that it took place in Britain, and felt hugely superior to my peers because I was reading books from another country.

Mary Pope Osborne
Mary Pope Osborne  wrote the Magic Tree House series, which was definitely a constant fixture in my house when I was in elementary school. I hadn't thought about it until just now, but it likely contributed to why I eventually went on to study history in school and love learning about the past so much.

Gertrude Chandler Warner
The Boxcar Children were another mainstay in little Erin's life, and I loved stories about families with lots of siblings. This one reminded me a lot of The Bobbsey Twins (to be featured below), which my mother loved as a child too. I think The Boxcar Children would be my generation's answer to Bert, Nan, Freddie, and Flossie.

Marcia T. Jones and Debbie Dadey
While I liked books written by the likes of Judy Blume that made the real world exciting, I also loved reading books that were highly implausible. That's where the Bailey School Kids come in. They were really popular amongst my peers and I loved to read about mythical creatures – even if they turned out to be regular humans all along.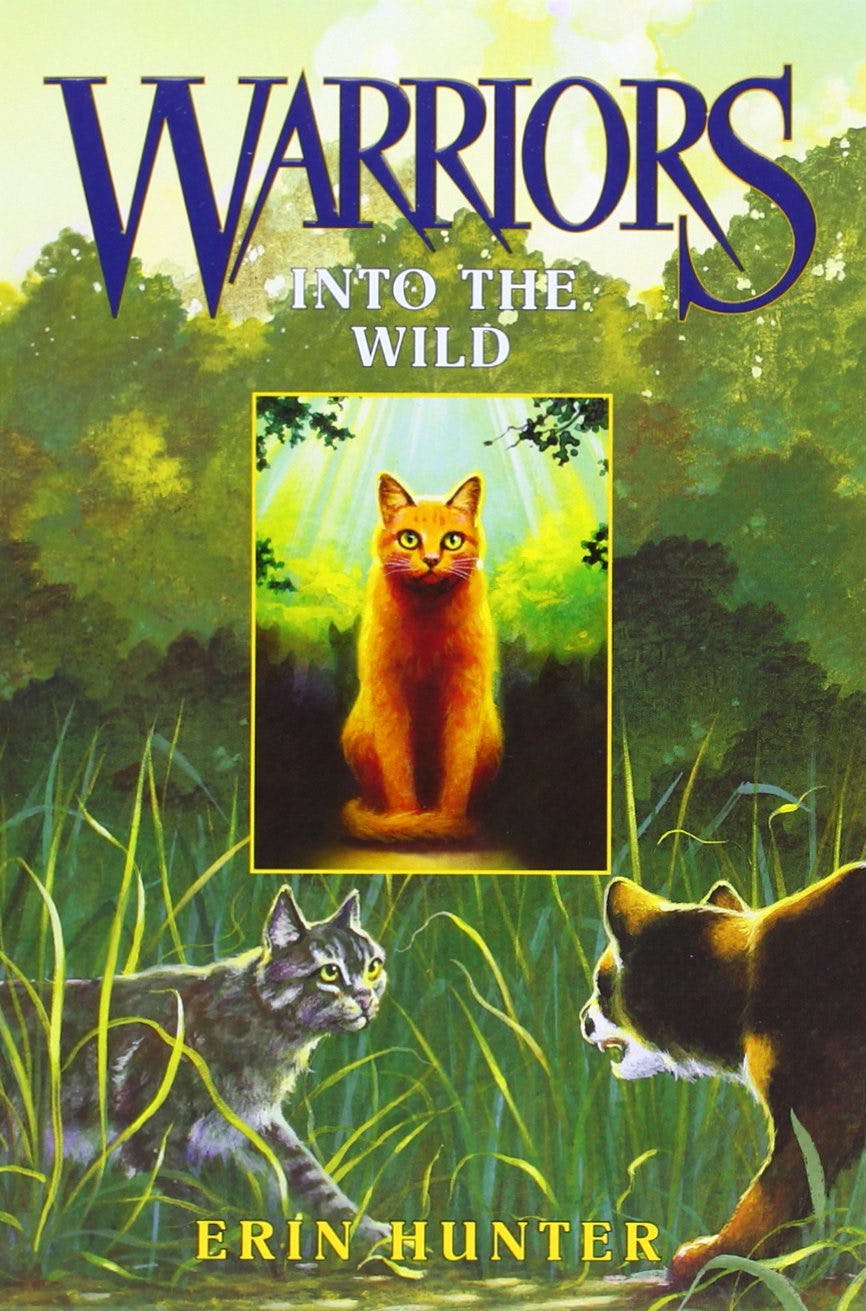 Erin Hunter
I loved Erin Hunter's Warriors series for a number of reasons. One, the author's name was Erin, and at that time in my life it felt like I was the only one with that name, and two, they were really well-developed worlds that I loved the complexities of. Also, I really liked cats.
Meg Cabot
Meg Cabot was more of a mainstay of my teenage years, but I worshipped her all the same. Thanks to a generous birthday gift one year of the entire Princess Diaries series, I quickly fell in love with her quirky characters. Outside of the Princess Diaries, I also particularly loved the 1-800-Where-R-You series as well.

Laura Ingalls Wilder
The Little House books are one of the most precious loves that my mother has ever passed on to me. I cannot read a book without thinking of her as a little girl reading and loving them too. They were simple and beautiful, and I always felt warm and fuzzy while reading them.

Donald J. Sobol
My father, on the other hand, outside of introducing me to many many books and was the purchaser of the aforementioned Princess Diaries gift, loved Encyclopedia Brown as a little boy and thus, I did as well. I still occasionally think of these books and how much I loved them and the idea of knowledge.

Laura Lee Hope
My mum also passed on her love of the Bobbsey Twins series, and when others were reading Nancy Drew and her mysteries, I was reading about the worldly adventures of Bert, Nan, Freddie, and Flossie Bobbsey and theirs. Before I even knew what fan-fiction was, I was rewriting the stories of these characters, and possibly claiming the characters as original for tests in the third grade (before I even knew plagiarism was a thing).

Georgia Byng
I can remember the day that I wandered through my middle school's library and happened upon a little book called Molly Moon's Incredible Book of Hypnotism. Still to this day I daydream about how life would be easier if only I could hypnotise everybody (that does bring up questions about the idea of consent, however, so maybe I should find other things to daydream about).

Norah McClintock
I actually happened upon Norah McClintock's books by accident, actually, and I am forever grateful for it. I can't remember exactly, but either You Can Run was sent to me from the Scholastic book order by mistake, or it was really cheap one month and I decided to take a chance on it. Either way, I fell in love with this gritty series that tackled topics about teens that still today are almost never written about.
Our Canadian Girl
Our Canadian Girl books were written by a myriad of authors, and they were crucial to my growing up. I loved to read about different parts of Canada at different points of the past, and it made learning about Canadian history fun. Just last month I rediscovered them, and hope to read the ones I never got around to in the future.

Dear Canada
The same idea as Dear America (but, you know, Canadian), Dear Canada books were fictional accounts of various historical events in Canadian history written as the diaries of young girls. I liked these books in particular because they often covered events that were sad or uncomfortable. I read one of the most recent releases last year about the Residential School System, and really appreciated once again how valuable a resource they can be to teach young kids about the past.
Did you read any of these books when you were young? Who were some of your favourite authors when you were just learning how to read?