The ever-so-lovely Sara @ The Bibliophagist tagged me in this and honestly, after reading her answers, I am SO EXCITED to do it too. At first I thought she had just paired her characters together, but apparently I didn't read the rules properly and it's actually totally random. Which makes it SO MUCH MORE FUN.
RULES:
Write 30 character names on pieces of paper. (You can use the character list from the bottom of the post or choose your own.)
Put them in a jar/mug/cup.
Randomly choose two pieces of paper for every question. In each of the 15 questions, you have to decide which of the two characters fits the question and which one is not good enough.
I did make my own character list though that I threw into a randomiser. No way am I choosing between Voldemort and Percy Weasley as my child's father. I did throw some unfortunate characters in there though to make it interesting! I'm really keen to find out where Dudley Dursley ends up. I also included Fantastic Beasts characters because I also make my own rules and I love Queenie Goldstein.
1. YOU ONLY HAVE ONE MORE SPOT ON YOUR SPELLING BEE TEAM. WHO DO YOU PICK TO COMPLETE YOUR TEAM?
George Weasley vs. Professor Sprout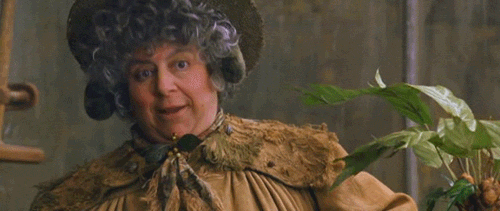 Ooh. Okay, so it's not like George isn't smart and probably has way more intellect than we give him credit for, but Professor Sprout has to memorize a lot of plant names, so I think she would probably be more helpful? She'd likely know the root words or languages of things too.
2. BOTH CHARACTERS WANT TO KILL YOU. WHICH ONE WOULD YOU KILL FIRST SO YOU HAVE A BETTER CHANCE OF SURVIVING?
Lavender Brown vs. Ginny Weasley
I love her dearly, but Ginny totally could kill me. Lavender cried at a bunny (rightfully so, but still), so I think I'd have a better chance of survival if she were after me. Sorry Ginny!
3. YOU'RE ON THE BACHELOR/BACHELORETTE AND YOU'RE DOWN TO THESE TWO CHARACTERS. WHICH ONE ARE YOU GOING TO GIVE YOUR ROSE TO?
Hedwig vs. Nymphadora Tonks
I mean, Hedwig is an owl, and I adore Tonks, so.
4. YOU'VE BEEN CHOSEN FOR THE HUNGER GAMES. WHO WOULD MOST LIKELY VOLUNTEER IN YOUR PLACE?
Ron Weasley vs. Fleur Delacour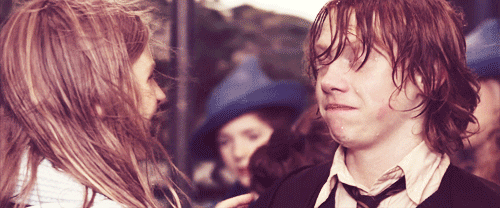 You know, I actually think both of these characters would be likely to volunteer for someone they love. Fleur would do it to protect that person out of love, but Ron would do it before he even realises the consequences of his action.
5. YOU'RE STRANDED ON AN ISLAND WITH AN ACTIVE VOLCANO. WHICH CHARACTER WOULD YOU THROW INTO A VOLCANO AS A SACRIFICE?
Rubeus Hagrid vs. Neville Longbottom
THIS IS BY FAR THE WORST ONE AND I ADAMANTLY REFUSE TO ANSWER THIS QUESTION ON THE GROUNDS OF CRUELTY.
6. YOU'RE THE NEXT DC/MARVEL SUPERHERO (WITH YOUR OWN T.V. SHOW, OF COURSE). WHO IS YOUR SIDEKICK?
Hermione Granger vs. Dudley Dursley
Oh. Hermione. Is this even a question?
7. YOU'RE A MANAGER OF AN AVOCADO ADMIRING COMPANY. WHO WOULD YOU FIRE FOR LACK OF COMMUNICATION SKILLS?
Fred Weasley vs. Parvati Patil
This is such a random question. I just…have absolutely no idea. Assuming both work at my company, I think I'd like to keep Fred around because he'd be more fun? I'm sorry Parvati. I love you.
Also, did you know GIFs of Fred without George just…don't exist. At all.
8. YOU'VE JUST FINISHED A BOOK IN WHICH YOUR FAVORITE CHARACTER DIES. WHICH CHARACTER IS MOST LIKELY TO COMFORT YOU?
Dobby vs. Moaning Myrtle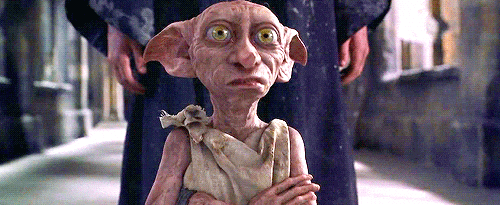 Lol. I don't think either Dobby or Moaning Myrtle are particularly comforting. Moaning Myrtle would probably be too upset about something or other that happened to herself, so Dobby by default, I guess.
9. UGH, IT'S HIGH SCHOOL. WHO WOULD MOST LIKELY BE PART OF THE POPULAR CLIQUE?
Professor Flitwick vs. Luna Lovegood
Both of these characters are a bit loopy and I really don't think either would be. But by default, Luna was friends with the Golden Trio and is herself part of the Silver Trio, so her I guess.
10. THE DAY HAS ARRIVED – YOU'RE FINALLY A YEAR OLDER! WHO WOULD HAVE THE NERVE TO FORGET YOUR BIRTHDAY?
Sirius Black vs. Harry Potter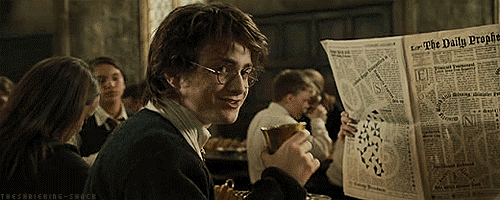 Harry is definitely forgetting my birthday. He has so much going on in his brain I'm surprised he can keep his head on straight. Sirius doesn't have much to do, so he's totally on top of all major life events.
11. YOU'VE JUST FOUND AN UPCOMING BOOKTUBE STAR! WHO WOULD IT MOST LIKELY BE?
Professor McGonagall vs. Tina Goldstein
Tina would totally have a booktube. But I don't think she'd be a star, because she would feature really interesting but dense books that nobody has time or interest to read.
Professor McGonagall would be her only constant subscriber though.
12. SLEEPOVER TIME! UNFORTUNATELY, YOU CAN ONLY INVITE ONE PERSON. WHO WOULD YOU INVITE?
Queenie Goldstein vs. Newt Scamander
Queenie would be the greatest friend to have at sleepovers, hands down. Newt would be okay, but I think he'd be more awkward than anything.
13. BAM, YOU'RE PREGNANT. WHO IS THE FATHER/MOTHER?
Draco Malfoy vs. Lily Potter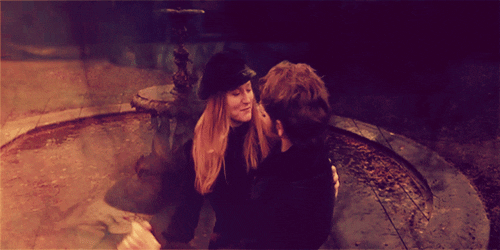 By genetic default, Draco. BUT BY LITERALLY EVERY OTHER FACTOR IMAGINABLE, I'd much rather have a child with Lily.
14. YOU'VE JUST WRITTEN A SUPER IMPORTANT TEXT. WHO WOULD SEE IT, BUT NOT REPLY?
Molly Weasley vs. Cho Chang
As witches in the 90s, I'm not sure either of these characters would even know what a text is. However, Cho married a muggle and is far more likely to eventually have a cell phone, and thus have text messages to respond to. Molly might not know how to work one. But by every other default, Molly would make sure that you weren't left hanging.
15. YOU'VE JUST WOKEN UP AND IT'S TIME FOR BREAKFAST. YOUR MUM'S BEEN REPLACED BY… WHO?!
Narcissa Malfoy vs. Remus Lupin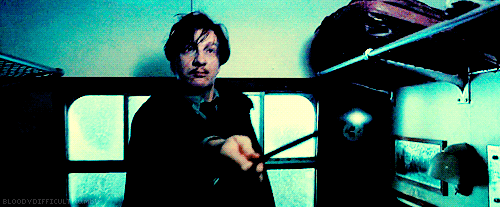 If Remus Lupin serving me chocolate for breakfast is what I have to sacrifice my mum for…but for realsies, he would definitely be a nicer surprise than Narcissa Malfoy, who wasn't really great at mothering at all, despite her scene with Harry in the forest.
***
This was so much fun! For this tag, I nominate: Dani, Kat, Kelly, & Kay. But if this tag peaks your fancy at all, please consider yourself tagged! (It's so much fun, I promise).
---
THE LIST OF CHARACTERS:
Cedric Diggory | Fred Weasley | George Weasley | Hagrid | Snape | McGonagall | Hedwig | Hermione | Ron | Ginny | Remus Lupin | Dudley | Voldemort | Neville Longbottom | Luna | Percy Weasley | Molly Weasley | Goyle | Malfoy | Parvati Patil | Viktor | Dumbledore | Madam Hooch | Sirius Black | Bellatrix Lestrange | Cho Chang | Filch | Fleur Delacour | Moaning Myrtle | Umbridge