I have a confession: I have a huge obsession with the show Queer Eye on Netflix. I mean, I have obsessions with most of the TV shows I watch, so that's not a huge surprise. But, I've watched both seasons of Queer Eye twice, and I only started last week. If you're not quite sure what Queer Eye is (or your ship just landed from outer space), it's a Netflix reality show where five gay guys – the Fab Five – make over men who have no sense of really anything in their lives. Each of the Fab Five has an area that they're experts in, and they all come together to give each chosen man advice in their specialty.
Honestly, I was going to create a Queer Eye tag myself, and was so incredibly proud of the idea, until I found out that Ayla over at Books & Babbles has already done so! And even though it's easy enough to pick out five books that fit the five categories and claim that I introduced it, that wouldn't be nice at all, so huge hugs to Ayla for developing this tag! Each category is based on each on the Fab Five, so just go ahead and choose a book that best fits it!
---
Food & Wine // Antoni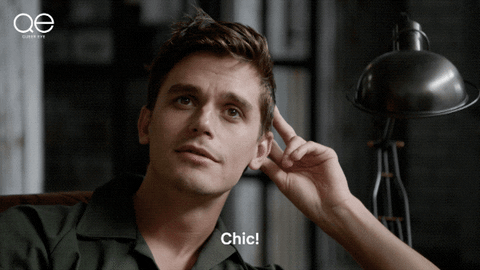 Antoni is my personal favourite member of the Fab Five. He's really a huge softie cinnamon roll who needs to be protected from the world at all costs. His category is food, and the first book that pops to mind is Love & Gelato. Not only does it make my heart swell just like Antoni does every time he comes on screen, I spent the entire time while reading it craving authentic Italian gelato.
Fashion // Tan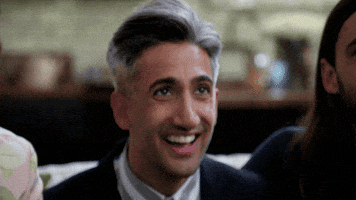 Tan is from Yorkshire, and even though he has amazing style, I want to swoon every time he speaks in that delicious Yorkshire accent. I actually went and reorganised my closet based upon his suggestions. For his category, I'm choosing Caraval. In Caraval, Scarlett has this gorgeous dress (given to her by Legend, but anyway) that can change form?? Which is basically everything I have ever wanted in a dress??
Grooming // Jonathan
Nobody has me running for my shampoo bottles to make sure they don't contain sulfates like my girl Jonathan does. He's definitely the most popular one on the show, and so much fun! I'm definitely cheating with his category (it's actually so hard!), but The Prophecy, a novel spin-off of the TV show Reign, reminds me how much I am in love with the different hairstyles they had in 16th century France. Which is obviously the best French era (I bet they would have done the French tuck, too).
Design // Bobby
Next to Antoni, Bobby is my second favourite member of the Fab Five. I have such a weakness for architecture and great design that I could honestly spend the rest of my life visiting beautiful interiors. For his category I'm choosing The Little Book of Hygge, because it's all about how to make a cozy home that makes you feel good. It's about the feeling you get when you enter an atmosphere that makes it a home, rather than the things inside (but obviously those are nice, too).
Culture // Karamo
Karamo is like a little guardian angel that encourages you to be the best person that he knows you can be. Whether that be through facing your fears, or taking that one step to the rest of your dreams, he is there every step of the way. I want to choose a good representation book for this category, which is Simon vs. the Homo Sapiens Agenda. Simon vs. is a really powerful story that is all about being proud of who you are and your place in this world, and I think Karamo would really be proud of Simon for finally being confident in who he is.
#QEBookTips
#QEHipTips is a fun little epilogue to each episode where the boys share a quick little tip to help you live your best life – but here it's where we discuss our favourite queer reads! Thanks to my June Pride TBR, I have a ton of queer books to choose from in my arsenal. Aristotle and Dante Discover the Secrets of the Universe is one of my all-time favourite reads, queer-ness aside. Another really great one that doesn't focus on the LGBT aspect as much is They Both Die at the End. And then there is my all-time queer fave, Brokeback Mountain. Currently though, I just started to read Call Me By Your Name and I am loving how beautifully passionate it is.
***
I'm not going to tag anyone specific because I honestly don't know many people personally who have seen Queer Eye, but you should definitely add yourself to that list! It's such a wonderful show that yes, will make you sob, but it's so beautiful how these five people can change someone's life in such a short amount of time. The best part though, I think, is that really what they do is help you become the best version of yourself that you can possibly be – and wouldn't it be lovely to live in a world where everyone felt confident with themselves and the lives they lead?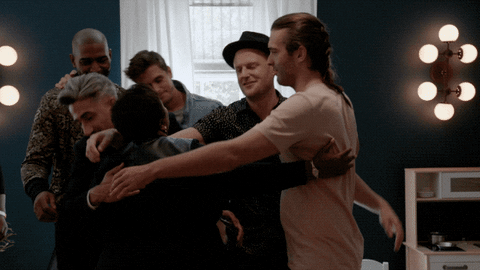 (Okay, fine, this post was really just an excuse to pepper your feeds with GIFs of my favourite gorgeous gays.)